Chelsea Office Space Listings
23rd Street
Chelsea Commercial Loft for Lease
4,000 SF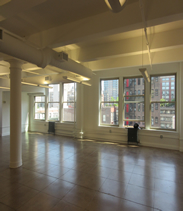 This office space stands at 4,000 SF and sit nestled within a beautiful commercial mid-rise. The office space on the 8th floor offers a full floor opportunity with lovely natural light. The front and rear facing windows streamline the light through the entire space. There are two standard offices, a conference room, two private restrooms, and an open bullpen with 20 workstations. The office space is move-in ready with a clean floor plan.
Available Sizes: 4,000 SF / 5,700 SF
---
14th Street & 10th Avenue
Chelsea Office Space
9,000 SF Divisible Negotiable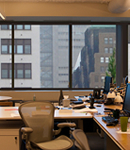 This stunning New York City commercial office is located in the heart of the historic Chelsea neighborhood. As a very popular area for many thriving businesses, the Chelsea area could be the perfect place to relocate your business, and with record low prices, there has never been a better time.
Available Sizes: 9,000 SF / 6,500 SF / 4,500 SF / 2,500 SF
email Jonathan for more details
---
West 17th Street
Chelsea Office Space
3,000 SF Divisible Negotiable
High ceilings and large open windows provide natural light and a peaceful work environment for you and your staff. The spaciousness of the office is great for work stations and an array of work setups. Landlord is very aggressive and negotiable with rent structure and looking to provide an ideal work environment for his tenants.
Available Sizes: 3,000 SF / 2,500 SF / 1,500 SF
email Jonathan for more details
---
---
About Chelsea NYC
Chelsea, a famous neighborhood on the West Side of Manhattan, is one of the most diverse regions in all of New York City. From its happening bar and nightlife scene, to its prominent art galleries, Chelsea is a trendy neighborhood. The scene here has blossomed thanks in part to the conversion of garages and warehouses between 10th and 12th Avenues.
It offers abundant recreational activities including the world renowned Chelsea Piers and Madison Square Garden. Any street in Chelsea is bound to have a multitude of thriving new businesses and chic residential buildings, the neighborhood transitions from an industrial area to one where eating, living, shopping and entertainment take center stage. Stretching roughly from 15th Street to 34th Street between the Hudson River and 6th Avenue, the commercial real estate in Chelsea Manhattan is always in high demand. Abundant real estate in the area features old world charm, with elegtantly restored pre-war apartments and townhouses complete with oak entries and garden boxes throughout.
For further information about specific spaces and buildings in the area, call Prime Manhattan Realty at (212) 268-8043. We will find the perfect space for your needs at no cost! We will help to negotiate you an ideal lease agreement that will save you money and time.