Office Listing
Midtown Office Loft on Broadway
Manhattan Commercial Loft Rental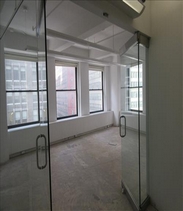 Midtown Office Loft on Broadway 8,000 SF.

This listing is 8,000SF loft office on the 15th floor in Midtown and is available for immediate lease. The office space is located in the building formerly known as Lefcourt Normandie Building. The building has a beautiful stone fašade with large windows boasting the neoclassic design. The prime Midtown location offers great amenities and numerous dining options. Keens Steakhouse, KOI, Pergola, and Arno Ristorante are some of the nearby restaurants. Transportation is easily accessible by way of the Subway, Times Square Station (1,2,3,7,A,C,E,N,Q,R) and Bryant Park Station (B,D,F,M). Enjoy the close proximity to Times Square and Bryant Park. Enjoy working in the heart of New York City!

The space offers a large reception area with a waiting room and comfortable seating for guests and clients. The office offers an efficient layout with a mix of standard perimeter office, large offices, open bullpen, and large conference rooms. There is also a mail/copy room, IT room, and a wet pantry. The open bullpen has 20 workstations with space for more. A file/storage room is available within the space to allow for maximum productivity.

Glass enclosed offices and large operable windows allow the natural light to flood the space making for a bright and open workspace. This prebuilt office is offered with a work order for qualified tenants allowing for personal touches and creative freedom. The office is fully wired for Data & Voice with plans being offered from Time Warner Cable LLC, MegaPath Corporation, and Verizon New York Inc.

This is the ideal space for Law, Investment, Advertising, and Tech firms. .


Loft Office Form Factor - an efficient layout with a mix of:


--

- perimeter offices, large offices, open bullpen, and large conference rooms

Open Bullpen able to accomodate 20
IT Room
Mail / Copy Room
Wet Pantry
File / Storage Room
Large Reception w/ Room for Guest Seating
Large Operable Windows throughout
Pre-Built Wired for Voice & Data
24/7 Access to Elevator
24/7 Attended Lobby
Passenger + Freight Elevators
Stunning Views from the 20th Floor

Steps away from Times Square Station (1,2,3,7,A,C,E,N,Q,R) & Bryant Park Station (B,D,F,M)
Contact Broker:
William J. McCollum

Managing Director
212 268 8290
Email Bill